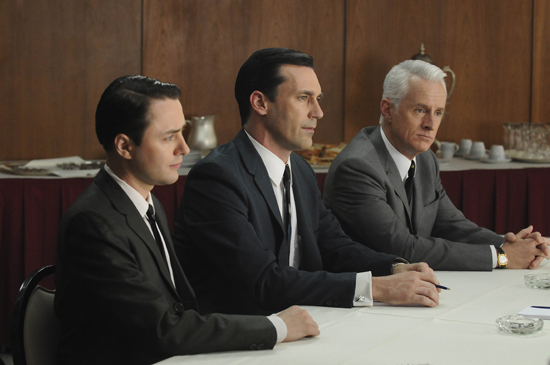 This past Sunday, I was reminded why I love Mad Men. The Mad Men episode on October 10th brought quite the drama to my television screen.

Okay, I'll start with how the AD agency's downfall becomes a reality for Sterling, Copper, Draper and Price as they lose their relationship with Cigarette brand: Lucky Strike. A long time relationship with this company is over and slowly the AD men are looking for other accounts. A new account for a new cigarette by Marlboro becomes a possibility and the office becomes a nervous frenzy as everyone is researching, rehearsing and even Don is pacing back and forth in his office. It seems that everyone knows how important this account will be for the agency.

In the meantime, Sally and Betty seem to be finally getting along as Sally asks to eat dinner with her and Bobby. Betty seems to be impressed by this. Furthermore, Sally's pyschologist notices her improvement and suggests that Sally only needs to come into the office once a week. When Betty hears about this--she disagrees and seems to not admit that Sally is progressing. Sally's psychologist realizes this and continues to schedule Sally twice a week for the rest of the month. Once again we see a concerning side of Betty's mothering capabilities: she refrains from acknowledging the improvements in Sally and doesn't seem to be supportive.
Sally begins to form a friendship with a boy from the neighborhood. They talk about their daily childhood problems and are there for each other. "I'll save my fritos for you," Sally says. She cares for him, however, Betty does not approve of their friendship. Later that evening, Betty expresses interest in moving out of the neighborhood and Sally becomes upset. It seems that Betty doesn't want Sally to be happy or to be doing better. Ever since Don has moved out of te house, Betty is continuously portrayed as a bad mother.

Don leaves the office and runs into his friend in the lobby. He gives her a ride home, where he meets her husband. From the looks of their apartment, it becomes obvious that the couple is struggling financially. Instead of catching up with a old friend, Don is thrown into an odd situation where he is forced to by a painting and give his friend money. After giving her $120, Don pulls back when she begins to kiss him. He pulls back because he knows its not right--perhaps he is moving on from his old ways? He always pleasantly surprises me and this is why I love Don Draper.

Unfortunately, the cigarette deals falls through and the BIG meeting is canceled. Everyone in the office is devastated. "We are going after scraps," Roger complains. Don retaliates and writes a letter to be posted in the New York Times titled, "Why I'm quite smoking." Although, everyone seems to be upset with his letter, this is Don's attempt to make a new name for the agency and bring in more accounts. He wanted attention to be drawn to the company and he wanted
everyone to know that Sterling, Cooper, Draper and Price quit smoking and that they didn't quit them. Don took a chance and make a clear statement in the NY Times. To me, this shows his pride and dedication to his agency.

With the lack of accounts, employees from Sterling, Cooper, Draper and Price are let go from their positions at the agency--even Faye is asked to resign. One by one, employees are seen carrying brown boxes full of their belongings from their desks. Don stops and stares down the hallway as a group of women are huddled together, crying. By the look on his face, we know that he is upset.

Don continues to stare down the hallway with a disappointed look on his face. The episode ends and a song plays in the background, "Trust in me." Perhaps, Don has something up his sleeve to make this all better.